I live on the east coast of Vancouver Island with my wife of thirty-seven years, Louise. My hobbies, which I enjoy when I'm not writing, are gardening, sailing and playing classical and folk guitar. I retired in 2000 after a thirty-two-year career in post-secondary education which had provided me with numerous opportunities to travel to Asia and Europe. I hold undergraduate and graduate degrees in anthropology combined with Asian studies from the University of British Columbia, Vancouver, Canada.
I write non-fiction magazine articles and conduct interviews on international business and education, and undertake assignments as a copywriter and editor for various organizations, but my real writing passion is historical fiction. I set my books and stories in Ming Dynasty China, eighteenth century Europe and Medieval England. I am the author of the Magistrate Lin mystery stories and the Captain Square Mysteries. My short stories have appeared in "Flashshot," "Over my Dead Body" and "Futures Mystery Anthology Magazine." I am also editor and columnist for the historical fiction department of "The Muse Marquee," an online magazine for writers, and a chapter contributor to the writers' resource book "The Muse on Writing" released by Double Dragon Publishing in 2006.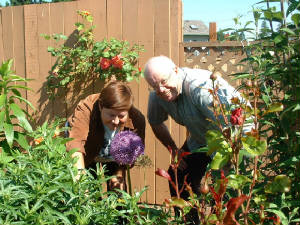 Charles and Louise lurking in their garden
Futures Mystery Anthology Magazine
I was born and bred in England, but left that sceptred isle for Canada when I was seven years old, not to return until I was fourteen. I completed Secondary School in England and then returned to Canada to attend university. I spent six years at the University of British Columbia and a semester ar The University of Michigan where I studied Chinese language.
In 1970, after obtaining a graduate degree and teaching for one semester at UBC, I embarked on a career in British Columbia's Community College system, starting out as an instructor in anthropology at what was then called Cariboo College, now Thompson Rivers University, in Kamloops, BC. In 1983 I took on the task of establishing an international programme at the college and headed that department until I retired. That job meant travel, and I had a priceless opportunity to see the world. I was able to visit and work in almost every country in East and Southeast Asia.
I had produced a string of professional publications during my academic career, but had always nurtured a desire to write fiction. So, soon after retiring, I began writing short stories, and started work on Jade Hunter.
There is one thing that is not apparent from the above description of my life and times, and that is that since the age of nineteen, I have been legally blind. I received a lot of help and support from The Canadian National Institute for the Blind (CNIB)throughout my life, and today I devote a good deal of my time to volunteer work on various Boards and Committees of that fine organization